What is macOS?
macOS (Mac or Macintosh) is a Unix-based OS. In the back-end, it is FreeBSD with a modified (hacked) GNU Mach kernel, which is not accessible off-hand. The end user interacts only with the Aqua GUI and has no access to directories in the system other than the home (~) subdirectory. macOS is fairly closed only allowing applications from the Mac App Store or identified developers. This limitation is disappointing and annoying considering the high cost of MacBooks and other Apple products even if done for the purpose of security or as an expansion of the iOS heavily restricted system mentality.
Since I got my second-hand MacBook running macOS Catalina (version 10.15, released on 10/07/2019) with the purpose of learning the OS and for programming, I installed the Homebrew package manager in order to install different applications like LibreOffice, Anaconda, MariaDB, DBeaver and PyCharm for Python3 — most of which are not available in the Mac App Store.

        
        /bin/bash -c "$(curl -fsSL https://raw.githubusercontent.com/Homebrew/install/HEAD/install.sh)"
      
I had to install ranger — a CLI file explorer to see the contents of directories outside home via the terminal (zch).

        
        brew install ranger
      
I dare say that I am disappointed. If I wanted to be limited by an OS and only able to see the contents of my home directory, I would have opted for another chromeOS laptop. Better yet, I could have set up FreeBSD again after more than a decade — this time on a VDI rather than on barebone hardware.
At least, I can use my MacBook to rewrite the curriculum for the SQL classes I teach. I want to move away from Microsoft SQL Server and into MariaDB since many students have MacBooks of their own.
By the way, my MacBook ("13-inch, Mid 2010" as listed in the Apple website, with a 2.4 GHz processor and 8 GB of RAM) is heavier than most desktop replacements — about five pounds according to Apple. Although I paid under $200 for it and it does not feel like the best purchase I have ever made.
History:
The story of the macOS is the story of Apple, the company and its philosophy, not only the development of Macintosh System 1. In 1976, Steve Jobs and Steve "Woz" Wozniak started Apple. By 1981, they had released several systems that were able to understand DOS running ProDOS and Applesoft BASIC.
In 1982, Apple was working on a new kind of OS and found PARC from Xerox, Palo Alto, California. They were making a new type of OS that used a graphical user interface (GUI) and not only text. Apple's co-founder Jobs offered them some of Apple's stock for the rights to the OS. Since Xerox main office refused the OS, they gladly agreed to do so in 1982.
In January 1983, Apple released two systems. One of them was the Apple Lisa, that ran Lisa OS and Lisa Office System. Named after Job's daughter, the Lisa was $9,995 so not many people bought it, but Apple knew the idea was good and continued development. The other system was the Apple IIe for $1,395.
In 1984, Apple decided to release the Macintosh 128k (Macintosh 1.0; commonly referred to as Mac) for $2,495, much cheaper and had more applications than the Lisa. About that time, Apple had Microsoft develop some software for Mac, but they borrowed their idea and came out with Windows shortly after, a big mistake from Apple.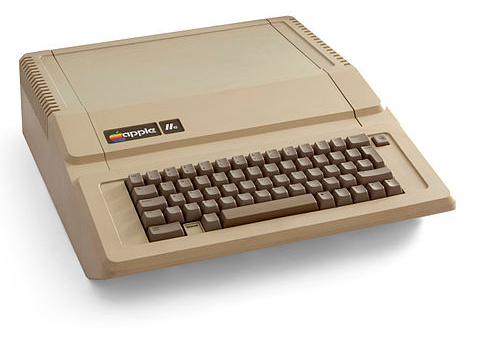 In 1985, the Lisa 2 and System 2.0 were released. Apple lost its founders, Wozniak in February and Jobs in September. Jobs started a new computer company called NeXT with the dream of changing the world, by having a great and sleek looking computer in a black case. The NeXT computer and NeXT operating systems were great but sold poorly. The NeXT would help Jobs and Apple make the Mac OS X, based on FreeBSD (a project known as Darwin).
In 1986, Apple released the Mac OS 3.0 in January, 3.1 in February and 3.2 in June. Japanese and Arabic versions of Macintosh were introduced.
In 1987, Mac OS 3.3 was released in January with AppleShare (proprietary protocol). About the same time, AppleShare file server was also released. Apple also released Mac OS 4.0 in March, 4.1 in April, 4.2 (Software 5.0) in October and Software 5.1 in November.
In 1988, Apple once again foresaw its own future with Unix, releasing A/UX (Apple Unix) in February. Apple released System 6.0. Mac OS 6 was a great OS and many artists and musicians bought it. On the hardware side, FDHD (SuperDrive, high-density floppy drive) was released with the Apple IIx and SE 2/40. Former co-founder of Apple, Steve Jobs released the first NeXT system called the NeXTcube.
In 1989, the first 32-bit Mac system was released, the Mac IIci. That same year Microsoft was working on the Intel 16-bit i486 microprocessor to release Windows 3.0 the following year. That same year, the first Apple portable system was released, the system ($6,500). Still trying to make on his own, Steve Jobs released the next generation of the NeXT system called the NeXTstep.
In 1991, Apple released the "most used Classic Mac OS", 7.0. This allowed users to have more performance from their Macintosh systems. QuickTime was also introduced this year.
In 1992, Mac 7.1 was released facing competition from Windows 3.1 and NeXTstep 3.0 and NeXTstep.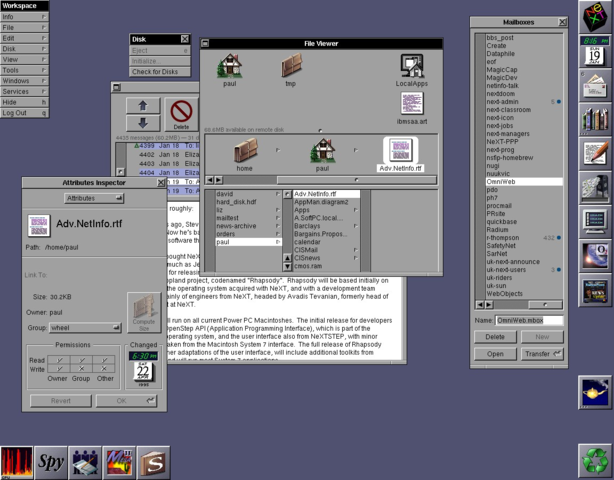 In 1993, Apple released the first Newton (hand-held device) in August and Mac 7.1 Pro in October.
In 1994, Mac 7.5 was released in June. Compatible with DOS continued with 610 and 6100 systems. Aside from end user systems, Apple continued supporting work groups with the Workgroup Server 6150, 8150 and 9150.
In 1995, legal Mac clones were released.
In 1996, Apple released Mac 7.5.5 in October and buys NeXT in December. The purchase of NeXT was one Apple's best decisions ever bringing Steve Jobs back to the company that he created.
In 1997, Mac 7.6 was released in January. Job came back to Apple originally as an advisor in January and then as the CEO in September.
In 1998, Newton is discontinued. Apple released Mac 8.1 and the iMac in August with a very unique advertising campaign asking people to switch to the Mac OS. iMac became the most sold personal computer in history making 1997 the most profitable year since 1985. In October, Mac 8.1 was released.
In 1999, Apple released Mac X Server in March and Mac 8.6 in April. Although that year the computer market had AMD push the 800 MHz mark (Intel not that far behind), the fastest Mac only had a 500 MHz. In a market that dominated by the speed of the microprocessor, Apple still held a descent market share.
In 2000, the Power Mac G4 Cube was released. The unit was different than the bulky computers many manufacturers were introducing to the market. The G4 Cube looked cool. Like many sports cars, it looked good, but it was impractical. That same year, Apple released a Beta version of Mac OS X in September.
In 2001, Apple released the highly anticipated Unix-based Mac OS X in March and Mac OS X 10.1 (Puma) in September. Apple also released the Power Mac G4 with 733 MHz, 867 MHz or dual 800 MHz microprocessors. Apple released iPod, the music device that changed the music industry and redefined cool in November, just in time for the Holiday season (great marketing).
In 2002, the first 1 GHz Power Mac G4 was released (actually dual 1 GHz) in January. That same year, Intel released microprocessors running at 3.06 GHz. Apple also released iPod for Windows 2000 and XP in July and Mac OS X 10.2 (Jaguar) in August.
In 2003, Mac OS X 10.2.4 was released in February followed by Mac OS X 10.3 (Panther) in October. The iTunes Store opened in April with 13,000,000 songs sold by October. Several companies have tried to sell music on-line, but have fallen short.
In 2004, Apple released iPod Mini in February. Apple reported selling 100,000,000 songs sold by July 2004 and 1,000,000 videos sold by October 2005 through the iTunes Store.
On April 2005, Apple released Mac OS X 10.4 (Tiger) based on OpenDarwin (Mach (micro)kernel, same as GNU Hurd running some FreeBSD and OpenBSD daemons). On June of the same year, Apple opted to port its OS to Intel microprocessors, phasing out port microprocessors by the end of 2007.
On October 2007, Mac OS X 10.5 (Leopard) was released. Since that same year, Apple has created a variety of products that have gotten people devoted to its brand name — iPod, iPhone and as of late iPad (almost a cult), which sold over two million units in two months. This had been a great success for Apple's new OS — iOS.
On August 2009, Mac OS X 10.6 (Snow Leopard) was released.
On July 2011, Mac OS X 10.7 (Lion) was released.
On July 2012, Mac OS X 10.8 (Mountain Lion) was released breaking the two-year release pattern set by the previous five versions.
As of October 2013, Apple decided to offer their OS updates for free of charge starting with Mac OS X 10.9 (Mavericks). Note that this practice started with iOS in 2007.
As of June 2015, Apple changed the name of their OS to macOS to match the names of other Apple products like iOS and iPad.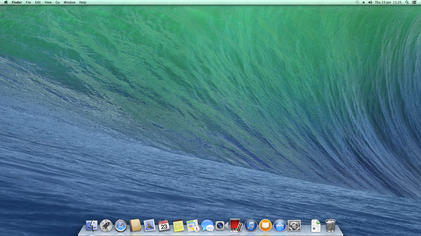 Installing macOS:
Unfortunately image do not have any experience installing the older versions or macOS X (Darwin), which is based on FreeBSD). Therefore I would recommend reading Installing BSD.
Of course, you can always opt for a hackintosh project if you really want to learn how to install macOS on new hardware (non-Apple, Intel-based hardware or no-longer supported Apple hardware (dosdude1's OS patches). For some reason, I am not eager to learn how to install macOS after feeling disappointed at the lack access the end user has over a computer he/she spends lots of money for. In other words, macOS feels like too much hype.