What is Cygwin (although not an OS)?
Cygwin is not an OS, but rather an open source "Linux-like environment for Windows [4.x and up]", (emulator) originally developed by Cygnus Solutions and then acquired by Red Hat. This environment runs most Linux (Unix, POSIX) commands and is a great way to learn Unix CLI and programming although not marketed this way, but rather as a migration tool.
On a personal level, I use Cygwin to run a Ruby/Ruby on Rails installation. Unfortunately, I am having some issues making a model to creating SQLite tables.
Installing Cygwin:
Download the installer from Cygwin. When you start the installation, you will prompted to select a repository to copy the installation packages from. At this point, you can select the default location or any other. If installing from an on-line repository, you will be prompted for a local subdirectory to copy the packages to, which can be deleted after the installation. By default, the installation process creates the C:\CYGWIN (or C:\CYGWIN64 for 64-bit architecture) subdirectory where all files including binaries are saved and run from. Since there are no changes written to the Windows Registry, you can delete the C:\CYGWIN subdirectory if you ever decide to get rid of Cygwin.
There is also a PortableApps.com version of Cygwin (download link) that you can install in a USB flash drive or similar technology.
On a side note, I never stop thinking and processing information all around me. As such, one of the subjects that attracts me most (aside from technology and music) is human behavior, not limited to psychology and ethos of the individual and masses. Hence I usually read, study and write essays of my own. From all possible authors in this field, some of my favorites are (in order of interest) Nietzsche, Levinas and Kant. As such, I have published two science fiction books, in which I include my opinion on religion, sociology, psychology, politics, manipulation of the masses, media, science and various technologies.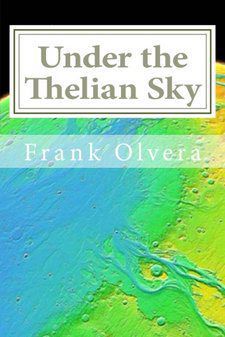 In Under the Thelian Sky, mankind did not originate on Earth, but rather on Mars. When Mars could no longer sustain life, mankind had to escape and colonized Earth. Many years later, a study was written about the survival of mankind in Mars and its struggle in Earth led by Doctor Ajidan Edejem. We proved to be a species that has survived wars, slavery and other forms of abuse. All the while, the government controlled by "them" wants to keep everything quiet and even kill him for telling others about the unavoidable doom. Years before the extinction of life in Mars, the Thelian society was perfect, yet corrupted. Life was easy, yet difficult if you were different. For every good person, like Ahila Keinj who found peace in The Faith, there were many willing to destroy it all for gain while "they" controlled the fate of many. At the end, an outsider simply known as Operative Logger 9C56 tries to fight "them" and stop "their" manipulation of history and mankind.
You can get Under the Thelian Sky exclusively at Amazon — available on print (ISBN 9781494232283) and e-book (ASIN B00GTQBY04).
In The Daydreamer, Robert James is a normal New Yorker who wakes up one morning unsure what had happened in his life. He is accused of killing the woman he has always loved, but he remembers three possible realities. Which reality could be true? Has he dreamed these realities, seen this events or taken part of these strange acts? Is he a killer or is he being framed? Perhaps he knows the killer better than anyone else without realizing it.